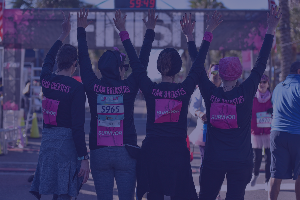 Celebrate Every Mom
Approxiately 34% of the patients served by The DONNA Foundation ini program year 2021 were mothers with children at home. By celebrating every mom from April 8 - Mother's Day on May 8, we hope to inspire moms everywhere to take steps toward understanding, improving and protecting their breast health. We also invite you to support the critical programs of The DONNA Foundation.
We have a goal to raise $20,000 during this special Celebrate Every Mom season. There are a couple of ways you can help:
1. Donate. Make a gift of any size to this campaign to help us reach our goal. Every gift will support The DONNA Foundation, its essential programs, and the families we serve.
2. Fundraise. Go the extra mile by clicking Join Team to fundraise with us, today!
3. Celebrate. Celebrate survivorship with us by registering for our Black Knight DONNA Mother's Day 5K (and Your Way) signature event, scheduled for Saturday, May 7. Register here: https://mdyw.breastcancermarathon.com/.
Together, we can celebrate all of our favorite moms. Moms like Georgia.
"It means a lot when you are going through a terminal illness and you are met with love and compassion from someone on the opposite end of the phone. The advocate I spoke with treated me like a person not a patient. I love the support y'all give and are forever grateful." Georgia - DONNA CareLine Recipient
Thank you for your support!
View More

Celebrate Moms
$50

Team Honor Roll
Earle and Lynne Yancey
$150
Jon and Lora Freedman
$102
CHRISTINA KALOUSDIAN
$102
Top Donors
W. H. Schroder III
Lori Regner
Lynn Cochran
Kristie Kirschner
Belle & Bob Voyles